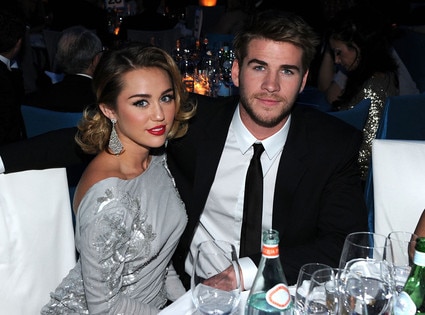 You know what child stars call Miley Cyrus, engaged to Liam Hemsworth at age 19?
A late bloomer.
From Shirley Temple, a bride at 17, to now, child stars have specialized in young love and just-as-young marriage. A look at the some of the reasons why:
1. They're Under Orders: Hard to believe this used to happen, but it did. Back when Hollywood movie studios were all-powerful, MGM decided it'd be a fine idea for employee Elizabeth Taylor, 18, to wed hotel heir Conrad Hilton Jr., 23. As it turned out, it wasn't a fine idea—Taylor said Hilton was abusive—but the deed was done, and just in time, too, for the release of Taylor's marriage-minded comedy, Father of the Bride.
2. They're Giving Orders: At the start of her run as a country-pop prodigy, LeAnn Rimes was under the control of a powerful manager-producer: her father Wilbur Rimes. "I've never hated my dad," Rimes recalled for ABC News in 2005. "…I just really disliked where he was in my life." Asserting herself, Rimes sued, and savvily wrapped up old business just days before, at age 19, she started a new life with dancer Dean Sheremet, then 21.
3. They're Rebelling: Natalie Wood was done with being the little girl from Miracle on 34th Street, and even the teenager from Rebel Without a Cause. "She feels it's about time people quit calling her 'the teenager's teenager," the Associated Press observed. Four months after that prescient 1957 profile was published, Wood became a married woman teenager, at age 19, with up-and-coming leading man Robert Wagner, then 27.
4. They're Not Kids Anymore: When Home Alone star Macaulay Culkin wed Rachel Miner, he'd been in control of his movie-career millions for about three years (she'd been a working actress on the daytime soap Guiding Light for even longer). That he—and she—were both 17 at the time seemed a less significant number.
5. Sue 'Em—They're in Love: Drew Barrymore, a 19-year-old veteran of films (E.T.), rehab and comebacks, sounded head over heels when she took the plunge with bar owner Jeremy Thomas, 31, in an unplanned, 5 a.m. ceremony. "I can't wait to walk along the beach with my husband," she gushed to People. "Can you believe that? My husband. Wow!"
P.S.: For the record, all of these marriages ended in divorce; two of them, Taylor's and Barrymore's, hit the skids in less than a year. Wood and Wagner, however, did find each other again, remarrying a decade after their split, and staying together until her death.
Source